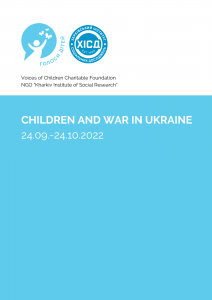 243 days of Russia's war against Ukraine. The inability of the Russian troops to fight and hold the temporarily occupied territories leads to even greater terror of the civilian population. The enemy is destroying our civilian and critical infrastructure. Attacks by Russian cruise missiles and Iranian strike drones have already destroyed 40% of the country's energy system. The migration of Ukrainians both inside and outside of Ukraine continues. People are forced to leave due to interruptions in electricity, water supply and heating, due to regular shelling of residential buildings, due to the constant threat of death or injury.
As of October 24, 430 children have already died and more than 820 have received injuries of various degrees of severity.
We present the report that briefly describes the key events of the eighth month of the war, related to the situation, problems and needs of children in Ukraine and abroad. Separately, in this report, we analyzed the situation with respect for children's rights in the de-occupied territories of Ukraine.
The methodology is based on the analysis of statistics, data from official sources and media materials. In addition, 11 interviews were conducted with volunteers, medical workers, psychologists, parents in the occupation and in the active combat areas, as well as with families who were forced to move to the western and central regions of Ukraine or abroad.
The report was prepared in co-authorship and with the financial support of the Voices of Children Charitable Foundation.