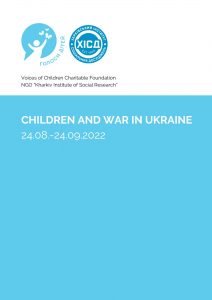 The seventh month of the war and the de-occupation of a large part of Kharkiv region once again demonstrated the atrocities committed by the Russian army in the temporarily occupied territories of Ukraine: several large-scale burials, including children; deaths from torture; destroyed housing and infrastructure; mined roads and forests. In the still occupied territories, the enemy intimidates the population, uses children's institutions to cover its positions, involves children in military operations and propaganda. There is often a ban on transporting humanitarian aid from Ukraine, and evacuation vehicles are fired upon.
During the 213 days of the war, 391 children died, 773 were injured with various degrees of severity.
We bring to your attention a report that briefly describes the key events of the seventh month of the war, related to the situation, problems and needs of children in Ukraine and abroad. Separately, in this report, we analyzed the situation with respect to children's right to medical assistance.
The methodology is based on the analysis of statistics, data from official sources and media materials. In addition, 14 interviews were conducted with public activists, volunteers, medical workers, psychologists, parents in the occupation and in the active combat areas, as well as with families who were forced to move to the western and central regions of Ukraine or abroad.
The report was prepared in co-authorship and with the financial support of the Voices of Children Charitable Foundation.