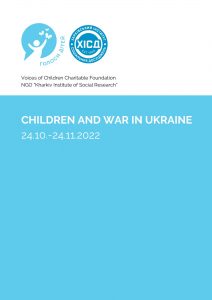 The ninth month of the war was marked by the liberation of a large number of settlements in the Kherson region — the city of Kherson in particular. The de-occupied territories need a lot of attention for now – the restoration of communal services, the delivery of humanitarian aid, the organization of medical and social services, the evacuation of people who have nowhere to live in the cold season. Unfortunately, the occupiers destroy or steal everything they can during the withdrawal of their troops from the occupied territories of Ukraine. Unable to advance, the Russian command is destroying our energy and residential infrastructure, launching hundreds of missiles and drones over our territory and aiming the places where no military facilities are availablle. The population is forced to stay without electricity, heating, water and gas for hours and even days. However, the worst thing is that as a result of constant missiles attacks, the civilian population continues to die, get maimed and injured, especially children. As of November 24, 440 children have already died, 847 children have received injuries of various degrees of severity.
We present the report that briefly describes the key events of the nineth month of the war, related to the situation, problems and needs of children in Ukraine and abroad. Separately, in this report, we analyzed the problem of domestic violence against children in Ukraine.
The methodology is based on the analysis of statistics, data from official sources and media materials. In addition, 10 interviews were conducted with interviews with psychologists, public representatives and parents in the active combat areas, as well as with families who were forced to move to the western and central regions of Ukraine or abroad.
The report was prepared in co-authorship and with the financial support of the Voices of Children Charitable Foundation.