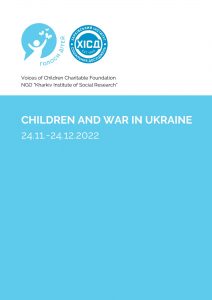 The cold season slowed down the liberation of Ukrainian territories. At the same time, it brought a load on the heating and energy systems in the conditions of constant shelling of Ukraine's critical infrastructure. The population is forced to adapt to long-hour shutdowns of light, water and heating, which is extremely difficult for families with children, especially babies.
For 10 months in a row, Russian troops continue to commit all kinds of war crimes against the Ukrainian people. They destroy residential buildings, hospitals and schools, mine civilian infrastructure, worsen the humanitarian crisis in the temporarily occupied territories, deport Ukrainian families, involve children in military training and propaganda, create torture cells for both adults and children.
As of December 24, 450 children have already died, 868 children have received injuries of various degrees of severity.
We present the report that briefly describes the key events of the tenth month of the war, related to the situation, problems and needs of children in Ukraine and abroad. Separately, in this report, we analyzed the militarization of children and youth by Russia.
The methodology is based on the analysis of statistics, data from official sources and media materials. Also, 8 interviews were conducted with public representatives, parents living under the occupation and in the active combat areas, as well as with families who were forced to move to the western and central regions of Ukraine and abroad.
The report was prepared in co-authorship and with the financial support of the Voices of Children Charitable Foundation.