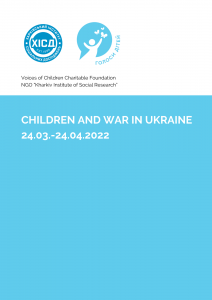 The second month of the war has passed. The number of the perished children increased to 213, of the wounded ones – to 389. Terrible events in Bucha, Gostomel and other towns in Kyiv region and in Mariupol give the understanding that the number of injured and dead children is much higher. The constant shelling of houses and streets in many Ukrainian cities and towns, the obstruction and shooting of humanitarian corridors, the use of illicit weapons, ill-treatment and torture in the occupied territories suggest that there will be more. To all this are the illegal removal of children from Ukraine, the risks of their adoption in Russia, and the recruitment of teenagers to take part in combat.
It is scary to record and describe the plenty of war crimes committed by the Russian military, because of which absolutely everyone suffers, including children. It is scary to understand that the consequences of war include orphanhood, health problems, children's mental trauma and stress. However, the collection and analysis of such data is necessary to understand the scale of the problems and the steps that should be taken first.
We offer you a report that briefly describes the key events of the second month of the war, related to the situation, problems and needs of children in Ukraine and abroad.