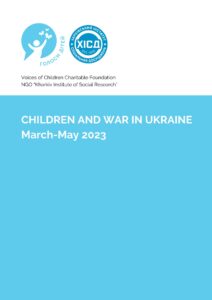 The second year of Ukrainian-Russian war continues to cause many losses for Ukraine — the Russian army regularly shells the civilian population and civilian infrastructure. As of May 31, 2023, 483 children have already died, 989 have received injuries of varying degrees of severity. More than 2,900 cases of crimes against Ukrainian children by the Russian invaders are being investigated .
The population of the temporarily occupied territories suffers from the lack of medical care, social services, communal infrastructure, sufficient food and elsewhere of drinking water. The problem of involving Ukrainian children by the Russian occupiers in propaganda and military operations remains urgent. Thousands of children have been deported, many of them may not return home.
We present you a report that briefly describes the key events of three months of the second year of this war, which are related to the situation, problems and needs of Ukrainian children.
The methodology is based on the analysis of statistics, data from the official sources and media materials. Seven interviews were also conducted with public representatives, parents under the occupation and in the active combat areas, with families who were forced to move to relatively safe regions of Ukraine and abroad.
The Report was prepared in co-authorship and with the financial support of the Voices of Children Charitable Foundation.