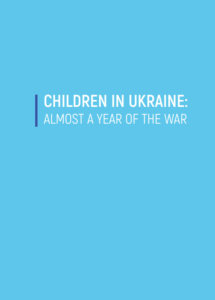 For almost a year, we have been documenting the war crimes of the Russian army in Ukraine. Most of them are directed against the civilians. The occupiers are shelling residential areas, shopping centers, places where humanitarian aid is distributed, hospitals, schools and playgrounds. They kill and terrorize the residents of the temporarily occupied territories, create a humanitarian crisis and prevent the evacuation of people. They kidnap, deport and militarize children, involve them in gathering intelligence and spreading propaganda.
Since the beginning of the full-scale invasion, the prosecutor's office has been conducting pre-trial investigations in 2,607 criminal proceedings about crimes related to the armed aggression of the Russian Federation against Ukraine, committed against children and in the field of childhood protection. As of February 10, 461 children have already died, 922 children have received injuries of various degrees of severity.
But the consequences of the war are much greater. Children become orphans, lose their home and family, have health problems, are forced to live with disabilities and overcome the psychological trauma of war and stress. Every month we issue situational reports describing the situation, problems and needs of Ukrainian children in the country and abroad.
In this report, we present you a brief overview of war crimes committed by the Russian army against children in Ukraine throughout the full-scale war. The report was prepared in co-authorship with the Voices of Children Foundation.