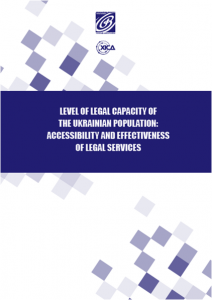 The modern development of the Ukrainian legal system is characterized by low levels of accessibility to legal services by the population, and an inability to accommodate ordinary citizens engaged in everyday life. The research conducted by Kharkov Institute of Social Research provides insightful and revelatory details about the extent
of the use of shadow schemes of access to legal opportunities, the complexity of procedures of the judicial system, as well as a range of negative social phenomena that impede access to justice for the citizens of Ukraine.
D. Kobzin, A. Chernousov, R. Sheiko, A. Budnik, M. Kolokolova, S. Scherban. The level of legal capacity of the Ukrainian population: accessibility and effectiveness of legal services. – Kharkov., 2011 – 85p.
Download Level of legal capacity of The Ukrainian population