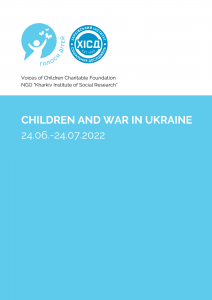 150 days of war, which are in fact 150 days of crimes against humanity and murders of peaceful citizens of Ukraine. Shelling of residential areas, terrorist attacks on places of concentration of the civilian population, killing and maiming of children, destruction of schools and hospitals, deportation and kidnapping of citizens, continuing humanitarian crisis in the occupied territories and attempts to create a food crisis in the world – these are what characterize the five months full-scale Russian invasion of Ukraine.
As at July 24, 358 children were killed, 684 were injured. And these numbers are not final.
We bring to your attention a report that briefly describes the key events of the fifth month of the war, related to the situation, problems and needs of children in Ukraine and abroad. Separately, in this report, we analyzed the situation with respect to children's right to leisure and recreation.
The methodology is based on the analysis of statistics, data from official sources and media materials. Also, 10 interviews were conducted with public activists, volunteers, psychologists, parents in the occupation and in the active combat areas, as well as with families who were forced to move to the western and central regions of Ukraine or abroad.