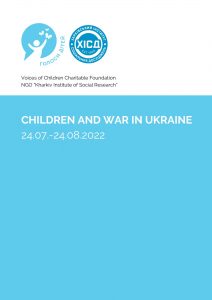 Half a year of war showed that Russia committed all possible war crimes on the territory of Ukraine. Most of the shelling and bombing falls on residential buildings, hospitals, schools and other civilian infrastructure. Terrorist attacks take place in places with the largest concentration of people – shopping centers, transport stops, high-rise buildings. Communal services are being destroyed – there is no water supply, electricity and gas supply in many settlements. There is a humanitarian crisis in the occupied territories – there are no medicines, hygiene and care products for minor children, limited availability of food and drinking water. In addition, there is a significant threat of the spread of infections in the captured and most affected cities of Donetsk and Luhansk regions, as well as a man-made disaster at the nuclear power plant in Enerhodar.
Russia kills citizens of Ukraine, kills and maims children. As of August 24, 374 children died, 723 were injured of various degrees of severity.
We bring to your attention a report that briefly describes the key events of the sixth month of the war, related to the situation, problems and needs of children in Ukraine and abroad. Separately, in this report, we have analyzed the situation with the preparation of schools for the new academic year.
The methodology is based on the analysis of statistics, data from official sources and media materials. Also, 11 interviews were conducted with public activists, psychologists, parents in the occupied territories and in the active combat areas, as well as with families who were forced to move to the western and central regions of Ukraine and abroad.
The report was prepared in co-authorship and with the financial support of the Voices of Children Charitable Foundation.